How to Relieve Stress During the Holidays & Get Back to Enjoying the Season
Though it's a little late for this Christmas I thought I would post this article that I wrote for The SITS Girls. Maybe this could be adapted for other holidays or life in general. Whatever the case…here it is. 🙂
The holidays are upon us, like it or not. If you're looking for sure-fire ways on how to relieve stress during the holidays, then keep reading!
This time of year can conjure up the best of feelings or the worst, and seemingly all at the same time.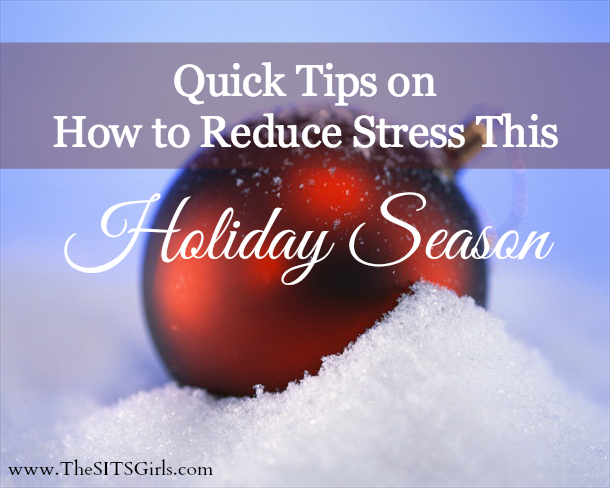 How to Relieve Stress During the Holidays
Women tend to suffer more than usual during this time, or stuff the feelings inside, which isn't a good thing to do for a number of reasons.
Here are a few tips to help you not only survive the holidays, but to actually enjoy them this year.
1. Get In Touch With Your Inner Child
Take a few minutes to sit in a quiet place and revisit the Christmases of your childhood. What did you enjoy the most about those times? Was it the gift giving? The time off school to spend with friends? Getting together with extended family members? Whatever it was, allow yourself some time to reflect upon those memories and feel the joy. It just might carry over into Christmas present!
2. Don't Try To Be Perfect
It's a total impossibility anyway so why waste precious time and energy trying to make everything perfect? You go through a lot of trouble to make it all just right. Maybe you're newly married, or a first-time mom or you're having a house full of guest. It won't be perfect! And most people wouldn't notice even if you could work that perfection magic, certainly not a newborn. It is what it is, so enjoy the moment, knowing that memories are being made with or without perfection.
3. Embrace The Dirt
I never quite understood why, during the busiest time of the year, my mom would choose to do a deep cleaning of our house during the holiday season while I was growing up. Actually, I didn't have that thought until I was married and had a house of my own, but come on! Not only do we add shopping; (spending a lot of extra money that we probably don't have in the first place), we also do a lot of extra baking, cooking, crafting, decorating and entertaining. Is this the time to clean your house from top to bottom?! I think not. Again, most people won't notice whether you did or didn't. Save that deep cleaning for a time during the winter (especially if you live in a cold state), to do your deep cleaning.
4. Help Someone In Need
With all the economical uncertainty and downsizing that has taken place world-wide, there are many hurting families. It really is better to give than to receive. It's the gift that keeps on giving, for the joy you feel inside when helping someone who is in need is a feeling that you can't compare or get anywhere else. If you don't personally know of someone you can help then contact a local church or charitable organization. They will have plenty of suggestions on ways to help or families in need.
5. Start A New Tradition!
One of my favorite things about Christmas is the ornament tradition we started when our first child was born. We bought a pair of booties; a ceramic ornament, complete with a pink ribbon. It was to commemorate the birth of our daughter. We received several ornaments for her that year and a tradition was born. Every year since then we each get a new ornament (all 5 of us), something personal to signify an event that took place, i.e. playing a sport, dancing, license, graduation, marriage; you get the picture. When my kids move out they will be able to take their ornaments with them for their own Christmas tree and ours won't be totally empty as we have been adding yearly to our collection.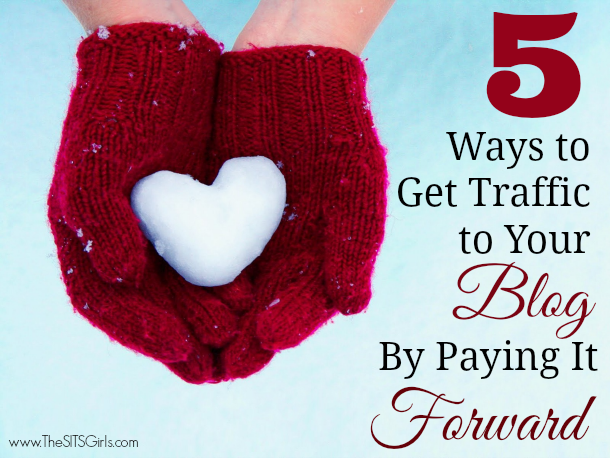 6. This One Is a Bonus For All the Bloggers Out There
In all the busyness it can be hard to find the time to write the many posts you want (need) to write. This would be a great time to feature some other bloggers on your site. Pay it Forward was a great post on SITS Girls talking about this subject. You can ask them to guest posts, or better still, direct your posts to their site, saying a few kind words about why you like the post or why you adore the person behind the blog. Tis the season, right? Spread some holiday blogging cheer and feature a few bloggers during this busy time of year. It's a win/win situation.
Whether you choose to do any of the suggestions in this post or not, I hope you have a truly joyful holiday season and the best 2014 you can possibly have.