Last year I wrote a post for The SITS Girls that I am sharing again today! I hope you find some tips on how to relieve stress during the holidays and get back to enjoying the season.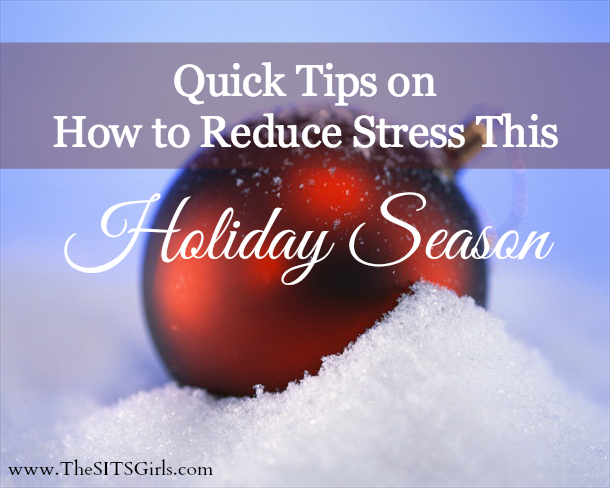 Photo Credit: The SITS Girls
How to Relieve Stress During the Holidays
Women tend to suffer more than usual during this time, or stuff the feelings inside, which isn't a good thing to do for a number of reasons.
Here are a few tips to help you not only survive the holidays, but to actually enjoy them this year.
1. Get In Touch With Your Inner Child
Take a few minutes to sit in a quiet place and revisit the Christmases of your childhood. What did you enjoy the most about those times? Was it the gift giving? The time off school to spend with friends? Getting together with extended family members? Whatever it was, allow yourself some time to reflect upon those memories and feel the joy. It just might carry over into Christmas present!
2. Don't Try To Be Perfect
It's a total impossibility anyway so why waste precious time and energy trying to make everything perfect? You go through a lot of trouble to make it all just right. Maybe you're newly married, or a first-time mom or you're having a house full of guest. It won't be perfect! And most people wouldn't notice even if you could work that perfection magic, certainly not a newborn. It is what it is, so enjoy the moment, knowing that memories are being made with or without perfection.
To read the rest of the post (4 more tips) and to add your own ideas, please click the link: How to Relieve Stress During the Holidays & Get Back to Enjoying the Season
 We would love to hear your suggestions on how to have a less stressful holiday season.